Lessons from Cambodia: How to Grow a Girls' Tech Entrepreneurship Challenge in Six Years
How do you get Cambodian girls engaged in addressing the digital gender divide? This is a question that the six-year Development Innovations (DI) project has been wrestling with since it was launched by the U.S. Agency for International Development—and that DAI's Center for Digital Acceleration (CDA) and DI have regularly chronicled on their blogs.
In 2014, DI launched Technovation in Cambodia with only one team, in coordination with the global tech entrepreneurship nonprofit Technovation Global. Technovation is an annual 12-week global coding and business plan competition for girls and young women, ages 10 to 18. Each week, the mentees work closely with business and technical mentors to develop a mobile application and associated business plan that addresses a problem in their community.
Over the past six years, Technovation has become wildly popular in Cambodia: More than 800 girls in three provinces have learned how to code; 15 Cambodian teams have made it to Technovation's global semi-finals; and two Cambodian teams have traveled to Silicon Valley in California to pitch at the finals of the Technovation World Pitch. Just last month, a Cambodian team placed second in the world in the junior division!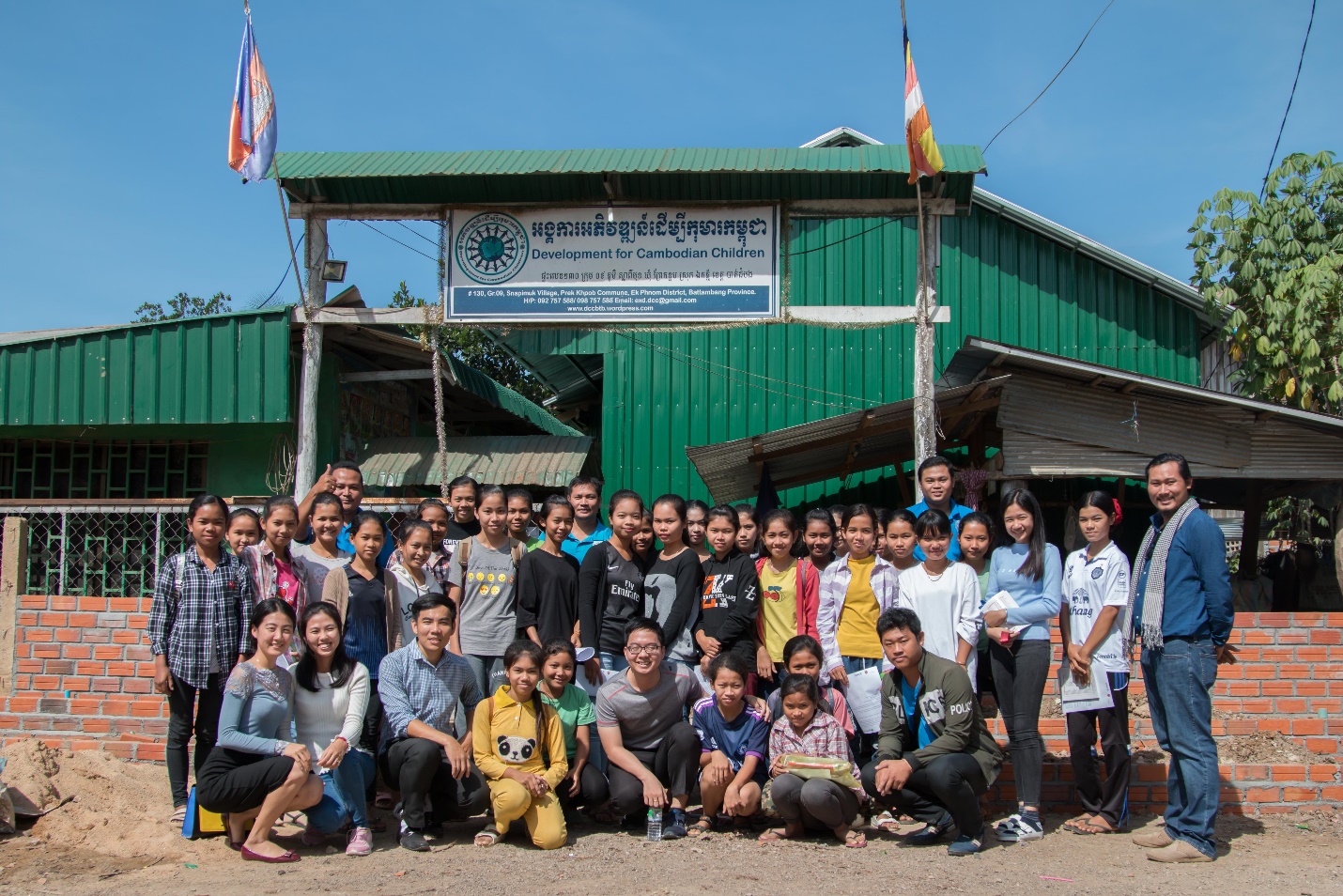 Technovation participants in Battambang province run weekend sessions from January to April.
Now that project is coming to an end, the DI and CDA teams are thinking through and chronicling some of the biggest successes and challenges from DI's support to Technovation Cambodia. To look at Technovation Cambodia from all angles, we conducted more than 30 stakeholder interviews in Phnom Penh and Battambang in August.
So, What Went Well?
Technovation helped Cambodian girls develop soft skills, not only tech skills. When asked the most important skills and knowledge that mentees gained from participating in Technovation, 100 percent of mentees and more than 90 percent of parents and mentors mentioned soft skills, specifically critical thinking, teamwork, and leadership skills. This capacity building helps fill a gap identified by leaders throughout the Cambodian educational systems.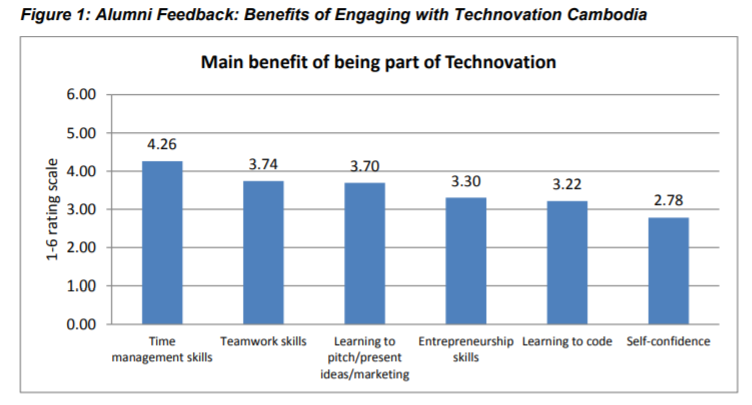 Technovation is a global competition, and Cambodian girls are succeeding on the world stage. The fact that 15 Cambodian teams have made it to the semi-finals of the World Pitch and two teams have competed in the World Pitch finals in the past four years is highly symbolic for several high-level strategic stakeholders. It provides concrete evidence that Cambodian students can compete at a global level and cultivates a sense of pride in their country for Cambodians at home.
Technovation Cambodia is achieving organic growth. Since 2018, three new schools or organizations in Phnom Penh and Battambang have started their own Technovation clubs. One of these schools has even incorporated Technovation into its official curriculum. This shows that there is a local need and desire for tech education programs like Technovation, even without DI's existence or support, and bodes well for the sustainability of the Technovation Cambodia model even after DI ends.
Technovation strengthens Cambodia's tech ecosystem and builds alliances among major stakeholders. Technovation facilitates networking among mentors, helping them build connections that extend into their professional lives. At a higher level, this creates new relationships within Cambodia's tech sector that may not have existed otherwise and which reinforce Cambodia's tech sector. At the same time, Technovation brings together previously disparate high-profile stakeholders—such as the donor community, major private companies, and the national government—in support of a common cause while also helping them achieve other goals, such as creating linkages with the local tech ecosystem.
Just as Important—What Did Not Go Well?
Persistent communication challenges create confusion for all. Mentors, mentees, and parents consistently report not having the right information at the right time from Technovation Cambodia. This is a twofold problem: Not only did interviewees report an occasional lack of, or inconsistent, information on things such as session start times (the day-to-day operational level), they also reported not understanding why fundamental changes to Technovation Cambodia took place (at the higher strategic level). This is in part a challenge because many mentees do not have their own email or Facebook accounts, and use parents or schools as interlocutors. Over time, the Technovation community often used closed Facebook groups to organize events, and more often than not, made individual phone calls. The lesson here is that it is critical to know your "users," and ensure internal communication strategies are just as strong as the public-facing ones. However, whenever Technovation stakeholders sought out DI staff or consultants with questions or clarifications, they reported that help was always accessible and the Technovation team answered questions quickly.
Technovation's required time commitment is a barrier to attracting and retaining mentors and mentees. At minimum, Technovation requires half a Sunday from mentors and mentees for 12 weeks. In reality, this can translate to near-daily work for to six months. This makes it hard to attract high-quality mentors and mentees. For example, on the mentee side, several former mentees said that they stopped participating in Technovation once they reached Year 9 or Year 12 in school because they needed to devote more time to studying for exams. It also makes mentor retention a problem during the Technovation season. In 2018, about 60 percent of mentors dropped out after just four weeks. This had a ripple effect on mentees as well—only about 50 percent of girls who started in week 1 submitted to Technovation Global 12 weeks later.
Mentor commitment is both critical and inconsistent. At its core, Technovation is a mentorship program, the success of which is driven by the relationship between mentor and mentee. Negative experiences with mentors color the quality of Technovation experience for mentees. A number of mentees noted that their mentors were not well-prepared each week. Several mentors also missed multiple sessions throughout the 12 weeks, though some did mention that say that they made up the time with their mentees during the week. A key piece of feedback on a feedback survey from the 2018 Technovation alumni was to bring in more dedicated mentors.
Different groups of Technovation participants and stakeholders require different types of support. When Technovation Cambodia first began, DI worked with a relatively homogeneous group of mentees from nongovernmental groups-run and privately run schools. However, as Technovation has expanded to new schools and new provinces, its participant base has grown, segmented, and their needs diversified. Community-based organizations in rural Battambang are now participating in Technovation Cambodia, alongside schools in Phnom Penh. Younger participants may need additional support from their mentors that is appropriate to their developmental level, while less-affluent students from public schools may not have access to equipment outside their Technovation sessions. It is good for Cambodia that Technovation is expanding, though this does make it more difficult for organizers to support these new stakeholders accordingly.
Donor-funded programs focused on technology are new and evolving quickly. By sharing our lessons learned—positive and negative—about a signature program activity, we hope to encourage other tech ecosystem-strengthening projects to do the same. A public evidence base will only help this type of project thrive in the future.