A Look Into the Future: Rwanda's Road to Digital Transformation
A couple of months ago, my family was visiting me in Rwanda. We were traveling two hours outside of the capital, in a rural, forested area, on what seemed to be the only straight patch of road in the mountainous country. As we were admiring the landscape, in my rearview mirror, I saw a flash. I knew she got me. Sophia—one of Rwanda's notorious traffic cameras (jokingly called "Sophia" by Rwandans and named after a humanoid robot that spoke at the Transform Africa Summit in 2019) cruelly captured me going over the speed limit. Within 15 minutes, I received a speeding ticket via text message. I quickly paid the fine through Rwanda's mobile money app, MoMo, and we continued our trip. Despite the ticket, I had to marvel at the technology that underpinned the entire exchange.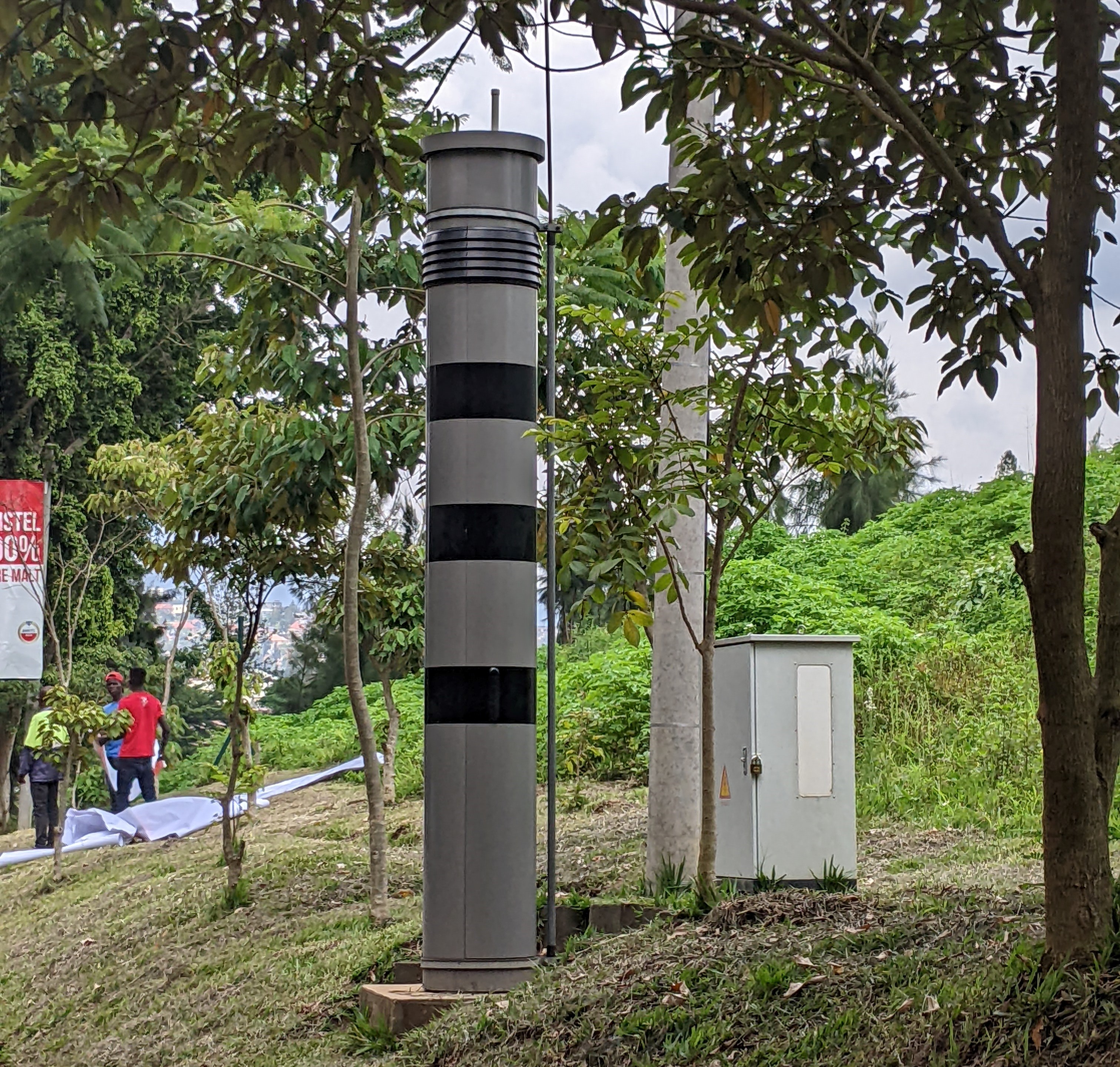 Sophia traffic camera. Photo: Ben Harguth.
Criticize Sophia all you want, but it is just one fascinating example of Rwanda's digital transformation.
I have been living in Kigali since 2020 and am continuously amazed at how often digital technology is part of the national discourse. News articles frequently highlight the digital and technological innovations employed to tackle key development challenges, including health, urban planning, agricultural development, and trade. The Government of Rwanda has been firmly committed to digital transformation as a key pillar for economic growth—and the movement continues at an accelerated rate. This year, in collaboration with the World Economic Forum, Rwanda became one of 16 countries to host a Centre for the Fourth Industrial Revolution (C4IR), working to promote emerging technologies such as artificial intelligence (AI), machine learning, blockchain, and the internet of things. Also in 2022, Kigali hosted the ITU World Telecommunication Development Conference, with 2,000 delegates from 153 countries. The conference included the first-ever Generation Connect Global Youth Summit to better engage the next generation of digital leaders.
Rwanda's digital evolution is a testament to its longstanding commitment to promoting ICT and digital solutions in achieving national outcomes.
Creating a Vision
Rwandan President Paul Kagame addressed this year's UN General Assembly, saying, "The future is digital, and transformation is happening now…" The address touched on emerging technology, AI, digital jobs, and investing in innovation. It was noted for its forward-thinking approach but, was inherently grounded in Rwanda's well-established and aspirational digital vision and agenda.
ICT and digital has been central to Rwanda's development plans. First articulated in the country's Vision 2020 strategy, the subsequent Vision 2050 strategy identified technology and innovation as core tenets to Rwanda's future state and goals. The strategic plan envisions Rwanda becoming a "proof-of-concept destination and living laboratory" that facilitates innovation and incentivizes startups in the technology space. The Smart Rwanda Master Plan provides a whole-of-government approach to achieve a knowledge-based society, including defined roles, institutional collaboration, and aligned national and sectoral strategies and visions.
Nowhere is this collaboration and collective vision more clearly seen than through Irembo—Rwanda's government-to-citizen electronic service portal. Groundbreaking even today, the platform was launched in 2014, serving as a one-stop-shop for 88 cross-sectoral services. Rwandan citizens can easily access services ranging from birth, death, and marriage certificates to land title transfers, COVID-19 test and vaccination records, and booking permits to visit Rwanda's famous mountain gorillas (and traffic fines!). The platform also accounts for accessibility and can be accessed by unstructured supplementary services data (USSD) or "quick code," and by the web. Beyond the ease of transaction and document validation, the platform yielded income-generating options for many entrepreneurs. Irembo kiosks are ubiquitous throughout the city, set up as micro-businesses to help Rwandan's access, print, and validate personal information and government services.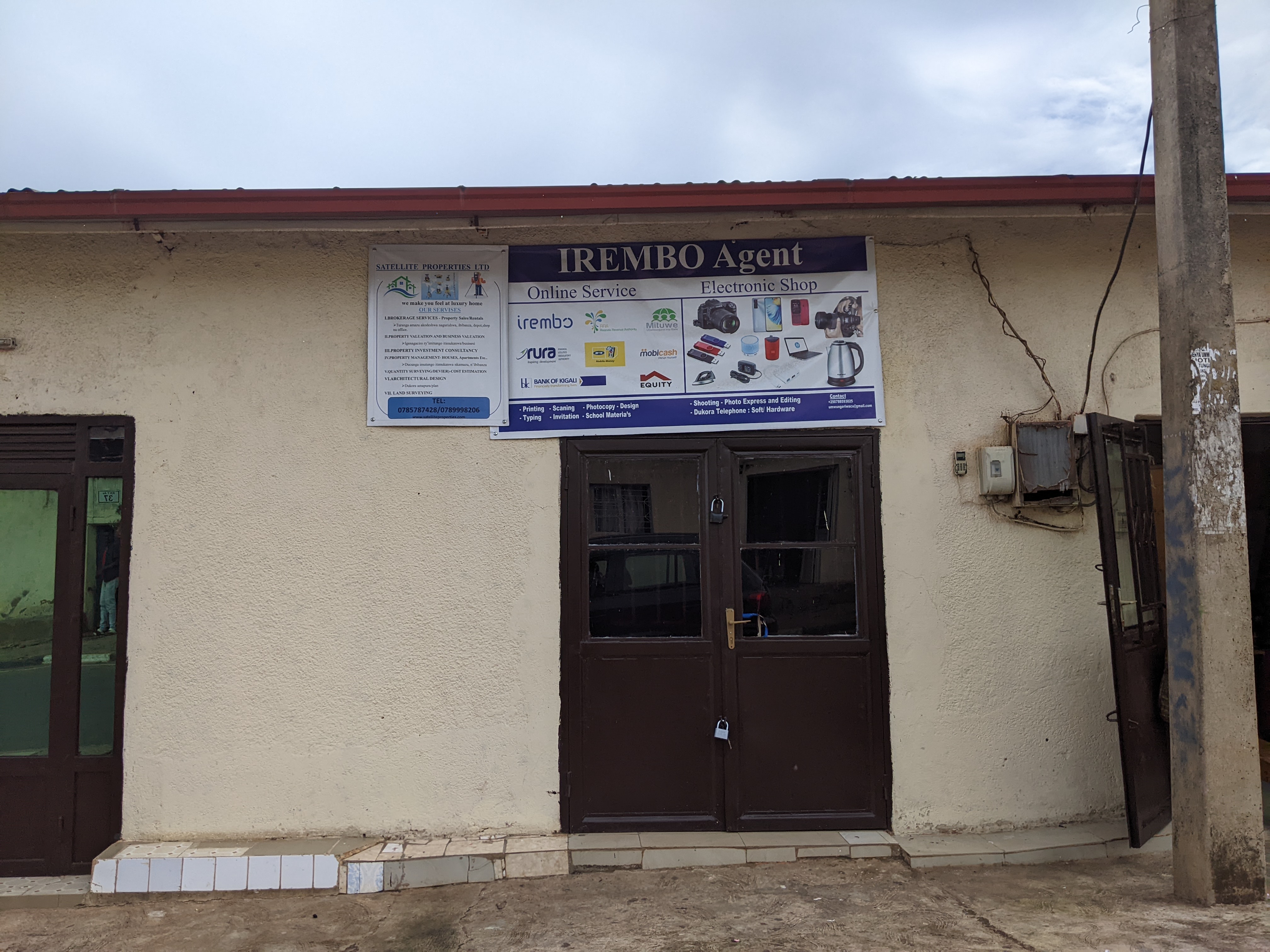 Image: Irembo Agent
At the Tallinn Digital Summit in October, Rwanda doubled down on its commitment to digitalize. The Prime Minister noted the government's intent to fully digitalize all government services by 2024.
Leveraging Policy
Given the interest and advocacy from the Government, Rwanda mobilizes robust policies to help advance the digital agenda. National, sectoral, and sub-national strategies have all been developed to align with Vision 2050 and the National Strategies for Transformation. A revolutionary e-waste law passed in 2016 made it among a select number of countries globally with national legislation on the management of discarded electronics. In 2021, Rwanda passed a new data protection law, allowing individuals and institutions to emplace processes that ensure personal data is handled in a trusted and secure way. Rwanda is also pioneering strategies and policies related to emerging technologies and AI, including cutting-edge concepts and provisions that address and mitigate risks and ethical concerns.
Despite the progressive thoughtfulness of Rwanda's digital policies, the government has been criticized for the use of technology regarding surveillance and censorship. Freedom House's Freedom of the Net has scored Rwanda as "Not Free," particularly noting concerns around transparency and unfettered regulation. Additionally, the data protection law includes a provision that requires data localization, which could hamper innovation and investment. While the legislation provides a two-year grace period, many local operators and institutions need more capacity and know-how to privatize and anonymize their datasets. That gap could impede data access and use and cross-border data flows, obstructing collaboration and system integration needed for future technology advancements (like leveraging big data analytics and the AI for public service delivery).
Fostering Innovation…
Rwanda positions itself as a market that fosters innovation. At this year's ITU conference, Minister of ICT and Innovation Paula Ingabire said, "We see ourselves as a proof-of-concept destination for innovative companies and start-ups to launch, test, and scale." Rwanda is making strides in promoting technological innovation and investment, launching everything from "anti-epidemic" robots during the height of the pandemic to utilizing drones for critical health services to advancing the space sector.
While Rwanda's use cases are wildly imaginative, they are not a panacea. Sustaining and scaling technological innovation is difficult. Currently the technology sector represents only 3 percent of the annual gross domestic product, and the government has set the goal of reaching 10 percent within the next decade. This will require substantial sustained market development, growth, and investment. The economics are further exacerbated by a small domestic market and its capacity to absorb ICT products (due to limited household incomes), and other development challenges, including digital access and literacy.
…While Tackling Persistent Challenges
Rwanda has made significant strides in digital infrastructure (near universal mobile coverage), but adoption remains a critical barrier (internet penetration stands at only 26.3 percent). While 85 percent of the population is using mobile phones, only 15 percent have access to smartphones, hindering digital penetration and access. Digital literacy remains extremely low at only 10 percent, challenging the ability to source a skilled, local workforce.
Socioeconomic barriers and issues that arise from the digital divide are well-documented and not unique to Rwanda. However, Rwanda is taking steps to address the problems. Many are working to overcome these critical challenges, promoting broader digital inclusion, while national programs are working to promote digital access (such as supporting smartphone affordability and promoting low data costs). Developing digital literacy and skills is a top education priority, and Rwanda is home to the first Smart Africa Digital Academy (SADA) and Carnegie Mellon University – Africa (CMUA). CMUA has received significant investments from the Mastercard and Gates Foundations to become a flagship academic institution that promotes advanced and emerging technology engineering and international partnerships.
While the commitments addressing the digital divide are notable, many (particularly education) can take an entire generation to reach its full potential. But Rwanda seems well prepared to endure, leaning into the vision and agenda it established 22 years ago and continues today.
The Road Ahead
Rwanda's road to digital transformation has been thoughtful and continues to evolve. It still faces institutional and economic barriers, but Rwandans remain forward-thinking and embrace the challenges. Let's wish them a good and speedy journey—traffic robots and all.