What Are We Reading about Misinformation and Disinformation?
After the insurrection/uprising/riot/attack/craziness/failed coup attempt (take your pick) at the U.S. Capitol building a few weeks ago, misinformation and disinformation are back in the news with a vengeance. While the bulk of the public's attention has been on U.S. domestic mis/disinfo related to QAnon and other 2020 presidential election conspiracies, it got us at the Center for Digital Acceleration (CDA) thinking about our favorite websites, blogs, and resources about mis/disinfo in the Global South or specifically for international development practitioners.
To clarify some key terms before we get started (as I put in my favorite blog post that I have ever written or will ever write)–are misinformation and disinformation the same thing? No! Misinformation refers to any false or inaccurate information, such as rumors and hoaxes, while disinformation is false information spread with the specific intent to deceive, manipulate, or influence behavior. Disinformation requires malign intent, while misinformation is just plain wrong.
So, what is CDA reading about mis/disinfo? In alphabetical order:
Bellingcat is an "independent international collective of researchers, investigators, and citizen journalists" that specializes in using open-source information—ranging from cell phone records to a Geographic Information System—to research and write investigative journalism pieces. They frequently write about and debunk popular mis/disinformation and online influence campaigns around the globe, such as those about West Papuan independence, the MH17 crash, and the recent Armenia/Azerbaijan war. They are best known for publishing explosive news stories (disinfo-related or not), such as this truly outstanding piece about the Russian government's plot to murder Alexey Navalny with Novichok gas.
Coda Story is a news outlet that chooses a small number of topics (which it calls "channels") to examine through different geographies, contexts, and multimedia story formats. Of its three current channels, one focuses exclusively on disinformation, with sub-channels on rewriting history, traditional values, soft power, and more. Stories range from anti-protest disinformation on TikTok in Russia to Hindu nationalists in India using textbooks to further their agenda.
The Atlantic Council's Digital Forensic Research Lab consists of a network for digital forensic analysts called #DigitalSherlocks who identify and write about instances of mis/disinformation all across the globe. They have successfully identified coordinated inauthentic behavior in countries ranging from Georgia to Tunisia and have worked with social media platforms like Facebook to remove these networks.
EUvsDisinfo: As an arm of the European Union's (EU) East StratCom Task Force, EUvsDisinfo focuses exclusively on Russian disinformation campaigns. Its researchers maintain a searchable database of pro-Kremlin disinformation focused on EU and Eastern Partnership countries, including the Western Balkans. Its infographic-heavy weekly newsletters contain top disinformation trends of the week and the total number of disinformation cases spotted in these countries.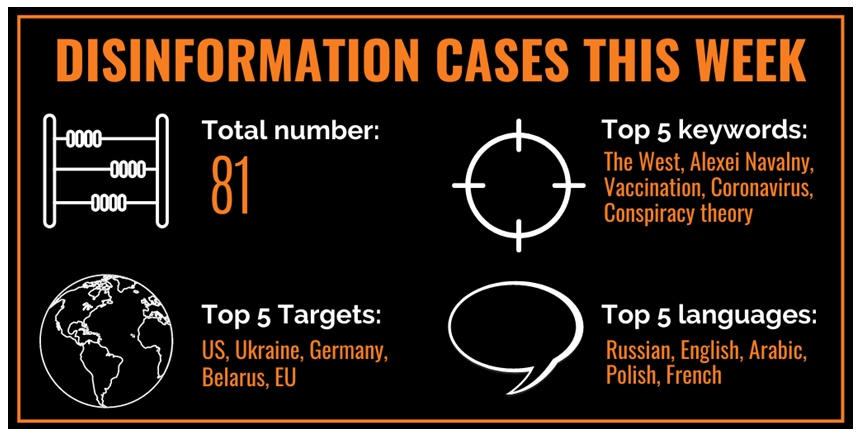 Screenshot from the January 28, 2EUvsDisinfo newsletter.
First Draft is a U.K.- and U.S.-based nonprofit providing research, tools, and training—including essential guides for journalists in multiple languages—to combat the spread of disinformation around the globe. It is also rolling out innovative partnerships directly with major online platforms, such as its 2020 partnership with Spotify to develop anti-disinformation toolkits for podcasters. First Draft's very well-hyperlinked weekly newsletter provides a short update with new developments in the fight against disinformation over the past week while also collating disinformation news stories and research from around the Internet and the world.
Harvard Kennedy School (HKS) Misinformation Review: For the more academically minded, the Misinformation Review represents a new generation of peer-reviewed publications that focuses on getting relevant information to policymakers quickly. Recent coverage includes COVID-19 conspiracy theories on Chinese social media to meme factory content in Singapore and Malaysia.
Omelas: A private company that collects, curates, and analyzes digital propaganda (primarily social media data) for clients in the defense and diplomacy space, Omelas regularly publishes its own research as well. Its research on topics like COVID-19 information operations in countries such as Iran, Venezuela, and Saudi Arabia as well as Russian state-sponsored Youtube channels has made it into news outlets such as Bloomberg, Newsweek, and Reuters.
Oxford Internet Institute's (OII) Global Inventory of Organized Social Media Manipulation publishes an annual report detailing large-scale social media manipulation—by governments, political parties, and private sector actors—in 81 countries (in the recently released 2020 report). Its work in precisely identifying the sources of social manipulation in different countries as well as quantifying social media manipulation outcomes (such the amount of money that 'cyber troops' spend on political advertisements, at around $10 million) is world class.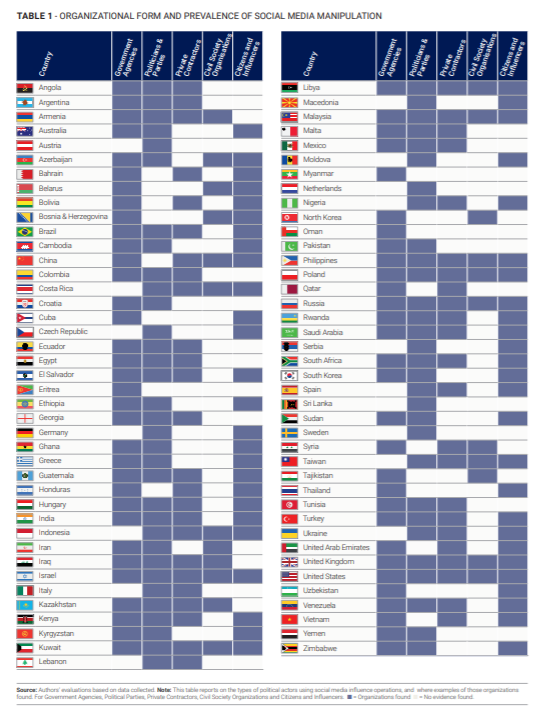 Screenshot from the Industrialized Disinformation: 2020 Global Inventory of Organized Social Media Manipulation report by Samantha Bradshaw, Hannah Bailey, Philip N. Howard.
Further Reading
While the resources above publish information wholly or mostly about disinformation, many other tech websites, blogs, news sites, and resources also write critically important stories that shape our understanding of mis/disinfo around the world. A few recent examples include Rest of the World's story about religious leaders in Nigeria spreading 5G and COVID-19 conspiracy theories, the Stanford Internet Observatory's research on the misuse of Wikipedia for political influence, and the Future Tense/Free Speech project's piece about a Russian influence-peddling operation's attempt to recruit the author of the story to write for its news site. While the role of misinformation and disinformation in modern society is just beginning to come to light, the resources in this blog post are helping CDA make sense of the new online information landscape that shapes our everyday lives and the lives of those people in the countries where we work.