Meaningful Connectivity: Providing Access to Life-Enhancing Digital Services
A lack of digital connectivity is a prelude to exclusion in today's rapidly changing world. Yet, more than 600 million people worldwide remain uncovered by mobile networks and broadband services. COVID-19 exacerbated the effects of this deep digital divide that continues to leave many communities disconnected, uninformed, and without access to life-enhancing digital services. Internet connectivity in the most remote places is essential to ensure that the most vulnerable populations do not get left behind. Moreover, these communities need effective connectivity that is consistent, safe, reliable, and accessible with enough bandwidth to allow for information access, news, government resources, telehealth, and educational instruction.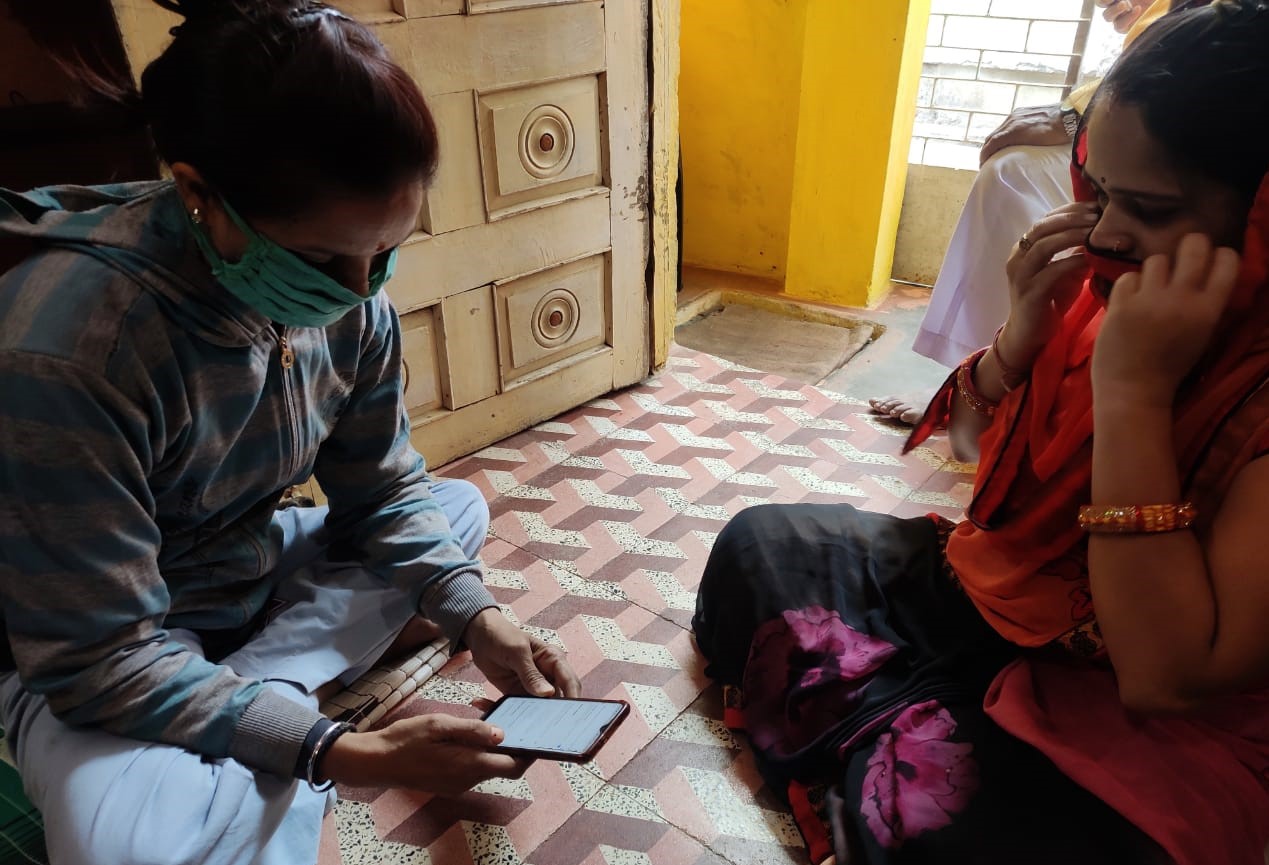 Women entrepreneurs accessing digital services in Guna, Madhya Pradesh, India. Photo: Digital Empowerment Foundation.
While many populations in urban areas across South Asia have access to internet services, rural area connectivity continues to remain a challenge. DAI's South Asia Regional Initiative (SARDI), in partnership with the U.S. Agency for International Development (USAID)'s Indo-Pacific Office, recently hosted a thought-provoking webinar on last-mile connectivity in rural areas. "Last mile" is a phrase widely used in telecommunications to describe the portion of the telecommunications network chain that physically reaches a user's premises (i.e. optical fibers that bring internet into a home or cell phone towers that link local cell phones to a cellular network). Bringing in some of the region's most respected technical experts representing the United Nations's International Telecommunications Union (ITU), Alliance for Affordable Internet (A4AI), Aspire to Innovate in Bangladesh (a2i), Broadband India Forum, and the Digital Empowerment Foundation (DEF), panelists identified challenges specific to the region and offered approaches on how to sustainably provide access to digital services and successfully enhance the lives of those living in remote communities. These approaches can only be realized by identifying infrastructure gaps through a cross-sectoral approach, creating new infrastructure for broadband delivery, enabling stakeholders to work together during the onset of a connectivity project, and implementing new technologies to better circumvent challenges posed by geographical barriers. By quickly addressing existing challenges and utilizing innovative approaches, governments and their partners can ensure communities have access to essential digital services and establish a level of connectivity that is vital for their citizens to prosper in an increasingly digital world.
When Infrastructure Falls Short
Fundamental infrastructure challenges, such as the lack of electricity, are often the biggest barriers to connectivity projects. "For example, in Papua New Guinea, 70 percent of the population does not have electricity," says Anju Mangal, Head of Asia-Pacific Region, A4AI. Despite Papua New Guinea's government's recent electrification partnership, the lack of current electricity services continues to stagnate any attempts at connecting underserved populations in the country. This is a clear sign that last-mile connectivity should be a cross-sectoral initiative. Governments and other stakeholders need to carefully look at how to not only provide internet service, but also to ensure that this service is reliable, safe, consistent, and provides the necessary speed to access valuable resources—what many of the webinar's speakers referred to as "meaningful connectivity."
Connectivity projects can also fall short due to technical hindrances even when fundamental infrastructure is in place. As seen with the government of India's BharatNet program, which was separated into two phases, Phase I's linear optic fiber architecture meant only a single fiber path connected communities to internet services, resulting in frequent disruptions to end-user connectivity when an optical fiber cable experienced a fault. Government implementors—including BSNL, a telecommunications service provider, BharatNet, a government-owned broadband infrastructure provider, and common service centers (physical facilities for delivering Government of India electronic services to rural and remote locations) realized the need to overhaul the program's infrastructure approach and bring in new partners if they are going to successfully provide a minimum of 100 megabytes per second of broadband connectivity to cover nearly 120,000 village governing institutes in Indian villages (gram-panchayats) by 2023.
Tapping the Private Sector for a Multi-Stakeholder Approach
By working together during the onset of a connectivity project, key stakeholders such as governments, entrepreneurs, and private sector stakeholders can benefit from collectively responding to an increasing demand for internet services in rural areas and avoid common infrastructural pitfalls that prevent connectivity projects from growing. "It's not [just] about tech; it's about people and processes. We need $428 billion to allow cost-sharing and enable key stakeholders," says Mangal. How does the government incentivize cost-sharing to engage external stakeholders and reach full-scale connectivity? "We need to find innovative solutions by way of involving MSMEs," says Debashish Bhattacharya, Senior Director General, Broadband India Forum.
As one of India's largest sectors, micro, small, and medium enterprises (MSMEs) provide an unprecedented opportunity to deliver broadband and telecoms services to currently unreachable areas. A clear example is the Wi-Fi Access Network Interface (PM-WANI) program, a regulatory and policy-driven approach to proliferate public wifi access points across India. Within nine months of the program's launch, close to 50,000 hotspots have been established, involving countless SMEs, and setting a precedent to create 20 to 30 million jobs in SME sectors, according to the Broadband India Forum. A core tenet of the PM-WANI model is to eliminate the need for licensing, an often-burdensome financial constraint for many smaller private-sector partners and small businesses. By removing licensing to provide connectivity services, the PM-WANI program enables more private sector players to work together with the government and deliver last-mile connectivity services to vulnerable populations.
SARDI, part of the Digital Connectivity and Cybersecurity Partnership, capitalizes on the PM-WANI model by enabling local women entrepreneurs and women self-help groups to take advantage of and host wifi access points. In an effort to increase connectivity beyond personal use, SARDI also provides training and information on how women can provide internet access to their communities. Requiring no registration or licenses, women entrepreneurs are empowered to host public wifi access spots at their places of business, designating them as public data officers (PDOs). PDOs can then purchase bandwidth from telcos and sell the service at an affordable rate to other citizens—effectively providing wifi services to not only their businesses but also their communities at large. SARDI's work demonstrates that women who own, manage, and operate internet services for communities greatly benefit from increased long-term livelihood skills and market opportunities, which in turn increase their standing in their communities. In addition, the PM-WANI scheme illustrates how a multi-stakeholder approach that involves government, small businesses, local communities, and private-sector partners from a project's inception, is essential to overcoming some of last-mile connectivity's most persistent roadblocks.
Leveraging Technological Pilots
"We cannot leave half the world disconnected for the next 10 years."—Osama Manzar, Founder and Director, DEF
Other considerations beyond optical fibers and cell towers are essential to connecting remote and rural places. For example, the reliance on telecommunications towers can present geographical challenges in places that are severely hit by dust storms or where construction is limited by bodies of water. "We have different options that are available for connectivity," says Syed Aamir Riaz, the ITU's Regional Thematic Lead on Digital Network Infrastructure and Emergency Telecom Lead. Riaz points to the use of broadband satellites as a serious option for stakeholders who want to deliver last-mile services to unreachable communities. As an alternative, the use of very small aperture terminals, a two-way ground station that transmits and receives data from satellites, comes with its own advantages including transportability, easier deployment in rural areas, and sustainable connectivity when wired options are limited. Given various technological approaches, ITU utilizes a last-mile connectivity toolkit, combining a set of methodologies, software tools, parameters, and capacity-building materials for selecting and implementing the most applicable connectivity solutions in the South Asia region. While there are various technologies available for connectivity implementors, it is also crucial to avoid siloed technical approaches. "We need technological pilots—leveraging different technologies and experimentation," says Manik Mahmud, Head, Social Innovation Cluster, a2i, a Government of Bangladesh program with technical support from the United Nations Development Programme. Mahmud also stresses the need for a regulatory sandbox, an approach that allows for live, time-bound testing of innovations under a regulator's oversight. By combining different technical approaches and leveraging public-private partnerships, stakeholders can engage the populations who remain uncovered by mobile networks and broadband services.
How is Digital Frontiers Supporting Last-Mile Connectivity in South Asia?
SARDI strengthens the last-mile delivery of broadband services to help women entrepreneurs, community development organizations), and local communities obtain access to internet and digital services. Through SARDI's activities, the program also aims to increase beneficiaries' digital capacities and empower them to take full advantage of digital services safely. By helping to implement last-mile connectivity projects and assist governments in realizing ambitious connectivity goals such as PM-WANI, SARDI is working diligently to propel inclusive social and economic well-being across communities in South Asia. Learn more about SARDI and how this program provides access to resources and digital tools to a region immersed in digital transformation.
To watch the full webinar, visit here.
This webinar was part of the SARDI Dialogue Series, aimed at highlighting the opportunities and challenges for South Asia's technological growth. SARDI is part of DAI's Digital Frontiers project, a $74.4 million buy-in mechanism available to USAID Bureaus and Missions from 2017-2023. Digital Frontiers works closely with USAID Missions and Bureaus, the private sector, and international and local development organizations to identify successful and sustainable digital development approaches and scale their impact globally.