10 Trends Changing Entrepreneurship Ecosystems
If you're supporting early stage entrepreneurs in emerging and frontier markets, there's a lot to be excited about as we approach the start of the third decade of this century! Over the past year supporting the Shell LiveWIRE global entrepreneurship program and the Kosmos Innovation Center (KIC), I've had the chance to attend some rather dynamic conferences, 'un'-conferences, meetups, and pitch events with the Global Accelerator Network (GAN), the Aspen Network of Development Entrepreneurs (ANDE), Techstars, and the International Business Innovation Association (InBIA). I've observed some trends from the inspiring incubator and accelerator program managers that I've gotten to meet from around the world—and will share the best ones below: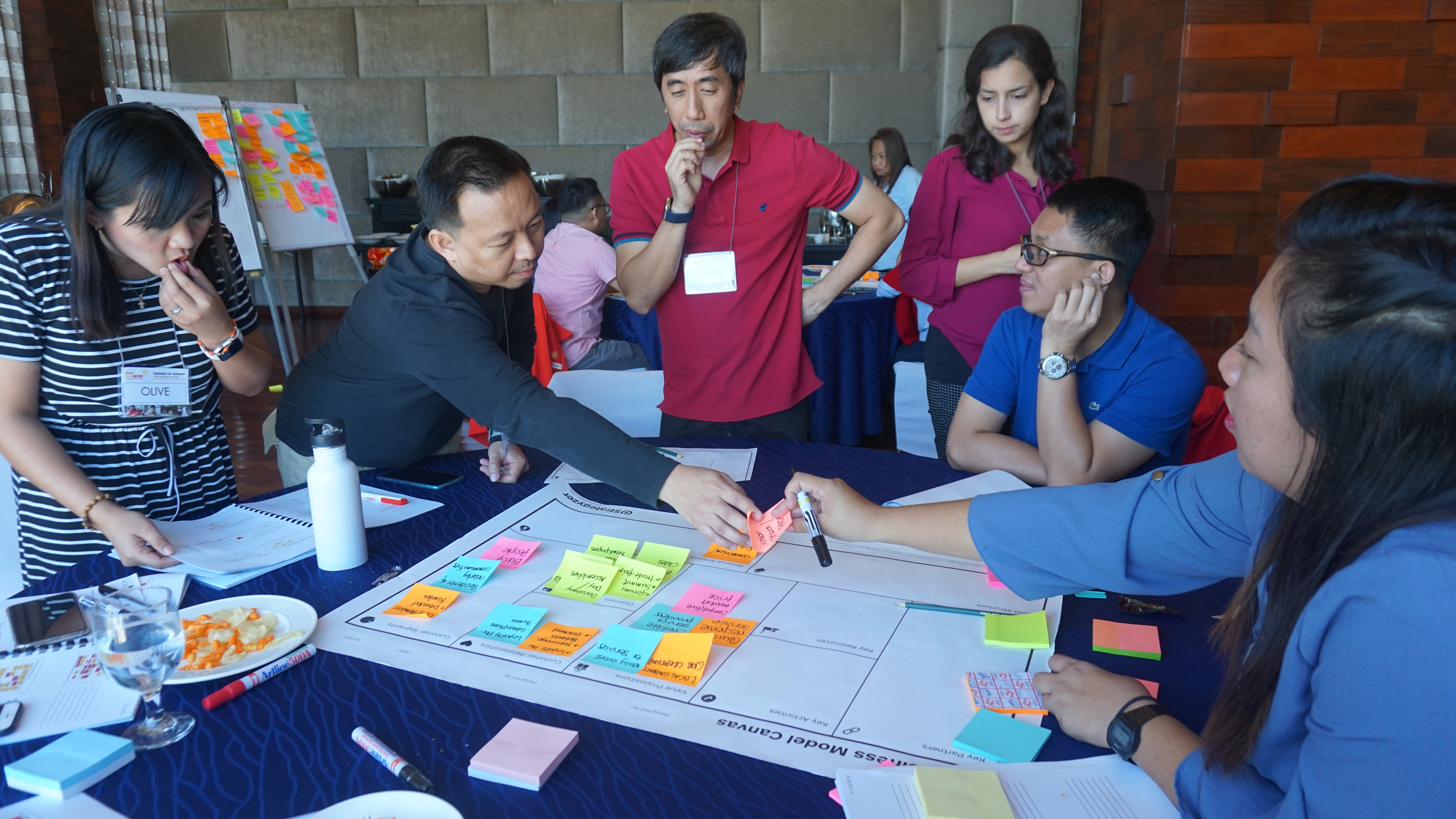 A group of entrepreneurship trainers from Pilipinas Shell Foundation practice using the business model canvas as part of a train-the-trainer workshop. Photo courtesy: Shell LiveWIRE International.
1. Rise of Cleantech and Agritech Verticals
While most entrepreneurship support organizations (ESOs) in developed markets are still sector agnostic, in emerging and frontier markets there is a trend toward more accelerators with cleantech and agritech verticals. Cleantech ESOs help to develop and scale tech-enabled commercial solutions that address climate change. This $1.3 trillion global market encompasses more than just off-grid solar products (which tend to get most of the media attention), and includes innovations in energy storage, green materials, sustainable transport, recycling, and more. Agritech ESOs seek to support tech entrepreneurs with scalable ideas to support agriculture and food innovation. For example, ESOs such as YBTT in Trinidad and Tobago helped launch SmartWave (an app-based smart lightswitch to reduce energy consumption); IdeaSpace in the Philippines helped launch Cropital (a crowdfunding platform to improve smallholder farmer productivity), and the KIC in Ghana helped launch TroTro Tractor (Uber for Tractors).
2. Expanding the #StartupWeekend Model
Startup Weekends, founded by TechStars, are now considered one of the largest startup events in the world. Over the course of 54 hours, teams of developers, business managers, and startup enthusiasts form teams, prototype ideas, work with mentors, and pitch their business plans on Sunday evening to local investors. The event has already been hosted in more than 700 cities in 150 countries worldwide. ESOs, such as CIEDS in Brazil, are adapting the model, by co-hosting such events with others, using the weekend's brainstorming format as a way for mentors and coaches to gauge the coachability of possible participants, and offer entry into local incubators and accelerators for pitch winners.
3. Improv for Ideation
Improv—the form of theater where teams create live non-scripted sketches based on trigger words and ideas from the audience—is becoming a popular tool to teach presentation and brainstorming skills to entrepreneurs and businesses. In particular, improv encourages the idea of "Yes And…"—a concept of accepting a teammate's wild ideas and building upon them, without a sense of judgement or rejection. These important soft skills in play, spontaneity, active listening, encouragement, and teamwork are being adapted for the entrepreneurship space to support startup teams in the early ideation phase when seeking to spark innovation in their product or business model designs. Organizations such as Impros in Ecuador invites improv specialists from around Latin America to help spark more creativity and build teamwork in local businesses.
4. Adaptations of the Business Model Canvas
With more than 5 million users, the Business Model Canvas (BMC) has become one of the most commonly used rapid business model planning tools by entrepreneurship organizations around the world—from Silicon Valley to startup accelerators in frontier markets. Unlike traditional business planning, which pushes an entrepreneur to put down on paper all parts of his or her business early in a long arduous document, the BMC uses design thinking methodology to visualize the business model on one page—and then allow startups to test, prototype, and validate key pieces of the model again and again with different value propositions, customer segments, cost structures, revenues, and partners. Some recent adaptations of the BMC, such as the Mission Model Canvas for nonprofits is designed to encourage them to think more like businesses and help spark innovation during strategic planning.
5. Online Management Tools for Entrepreneurship Support
ESOs are professionalizing their management systems using new technologies. Apps such as Accelerator App, Growth Wheel, Union VC, and Live Plan give incubator and accelerator program managers the ability to simplify application processes; administer pre- and post-boot camp diagnostics; and digitally track startups' growth targets based on real-time inputs from founders, coaches, mentors, and trainers.
6. Professionalizing Mentorship
Mentorship has historically been mostly an ad-hoc add-on for ESOs, however, there is a growing appetite among global ESOs to professionalize it. Mentorship is often about engaging successful entrepreneurs and business leaders in an ecosystem to volunteer to be role models and provide guidance to young entrepreneurs. Today, mentorship is being recognized more and more as a key component for founders to help reduce startup failure rates. With the support of dynamic organizations such as We Love Mentors, ESO program managers are designing mentor certifications that seek to professionalize the selection, onboarding, matchmaking, and monitoring of entrepreneur mentorship.
7. Reducing the Stigma of Founder Wellness
While there has been lots of business, economics, finance and marketing research done on why startups fail, there has been less psychosocial research done on the emotional and mental wellbeing of entrepreneurs. Recent high-profile suicides in the startup world have begun a more open global conversation around mental health—or what is being coined 'founder wellness'—that is acknowledging the importance of mental and emotional support as another factor to help reduce startup failure rates. As an example, GAN launched a Founder Wellness Pact in 2016, as one of several efforts by incubator and accelerator organizations to start taking mental health more seriously.
8. The Reverse Pitch
Corporates often get pitched by startups with ideas that don't necessarily address their specific needs. One growing trend is the reverse pitch—where a corporation or a group of corporates partner with ESOs to define clear problem statements around a challenge in their sector or supply chain. Corporates and ESOs then host Reverse Pitch Days for the entrepreneurs—flipping the pitch model on its head, since it's the entrepreneurs now listening to what potential buyers seek. Corporates offer mentorship and seed capital to shortlisted startups with innovative ideas to address the defined problem statements, and if successful, these startups are possibly offered the opportunity to be acquired or become suppliers. Syngenta, for example, just launched a global reverse pitch on "gamification models for farm management data" to find innovative ways for their farmer customers in developing and developed countries to become more disciplined with inputting on-farm agri-input data. And QBO and Impact Hub Manila have organized the world's largest reverse hackathon targeting problem statements around climate change, food waste, and smart cities in conjunction with several agribusinesses and city mayors.
9. Increasing Connectedness through "Ecosystem Builders"
Ecosystem builders are organizations that are not necessarily directly supporting startups, but are seeking to strengthen the entrepreneur ecosystem as a whole—by supporting the organizations that support startups. While a strong ESO sometimes can play the role of an ecosystem builder, there has been a trend toward more for-profit and nonprofit organizations that are using innovative consulting, research, advocacy, and event planning service offerings to ecosystem players in new ways. SourceLink, for example, publishes Resource Rails—interactive maps to improve communication among ecosystem stakeholders. And AEI in Ecuador has found great success as a membership organization playing a public-private dialogue role on behalf of ESOs in their ecosystem.
10. The Rise of Startup Studios
Startup studios—also known as startup factories, venture studios, or venture builders—are being considered a new approach to building startups. Unlike incubators or accelerators, startup studios generally don't accept applications, and don't run competitive programs that culminate in pitch and demo days. Instead, they test and build ideas from within their own business and investor networks—often matching an inventor and/or seasoned startup CEO with operations, finance, marketing, and product development teams that they need to test their ideas and grow. Startup studios usually work on multiple startups at the same time, with the same infrastructure, software, and support teams, so that learning from prototypes and market research can be shared across startups. As this movement grows, it's timely that GAN recently acquired the Global Startup Studio Network (GSSN) to provide support, guidance, and good practice as new startup studios are formed around the world—such as Polymath in Colombia, Agave Lab in Mexico, and Far Ventures in South Africa.