Lessons from the Fall Armyworm Tech Prize: The Importance of Ensuring Goals Align
One of the attractions of awarding prizes in global development is that the prize sponsor shifts the responsibility of achieving results onto competitors. While this approach can inspire a range of creative solutions and spur a nascent market, it also means many finalists will develop something valuable whether they win the award or not. For a prize to be valuable to both sponsors and competitors, sponsors must clearly communicate prize objectives so that competitors have the best chance at success and can assess whether devoting resources to achieve those objectives makes sense for them, win or lose.
Feed the Future, through the U.S. Agency for International Development (USAID), took this measured approach in the Fall Armyworm Tech Prize. This prize was created to incentivize new digital tools and approaches to help African farmers identify and treat the invasive agricultural pest that is threatening the food security of about 200 million people. Following a rigorous application process that included 228 proposals, we selected a cadre of 20 promising teams to create and test digital solutions to sustain farmer productivity in the face of the pest. After field testing and expert evaluations, we convened our finalists to showcase their work and announce the winners at the November AfricaCom conference.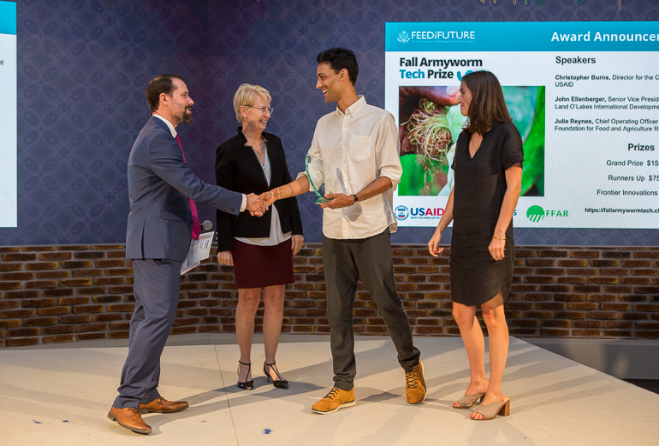 Center for Digital Development Director Chris Burns, and Foundation for Food and Agriculture Research COO Julie Reynes with Grand Prize Winners Adam Wills and Georgia Barrie of Farm.ink at the AfricaCom awards ceremony. Photo credit: KNect365.
Learning at AfricaCom
In a room of 20 teams buzzing with anticipation over whether they won one of the six awards, the question, "Did we do a good job?" was top of everyone's mind. But it wasn't simply competitors wrestling with that question in our focus groups and interviews. The team behind the Fall Armyworm Tech Prize wondered the same thing. Did we clearly communicate our objectives, process, and incentives, allowing competitors to assess whether participating was appropriate for their organizations?
Prize winners, unsurprisingly, assured us that competing was worth it. Notably, they explained that they entered the competition because the prize matched their strategic interests, so even if they lost, the experience would still be worthwhile. For Grand Prize winner Farm.ink and Runners-Up Akorion and Project Concern International (PCI), in partnership with Dimagi, competing not only allowed them to respond to growing customer demand for innovative solutions to address the destructive pest, it also incentivized them to respond to that demand in a way that reflected their organizations' strategic goals.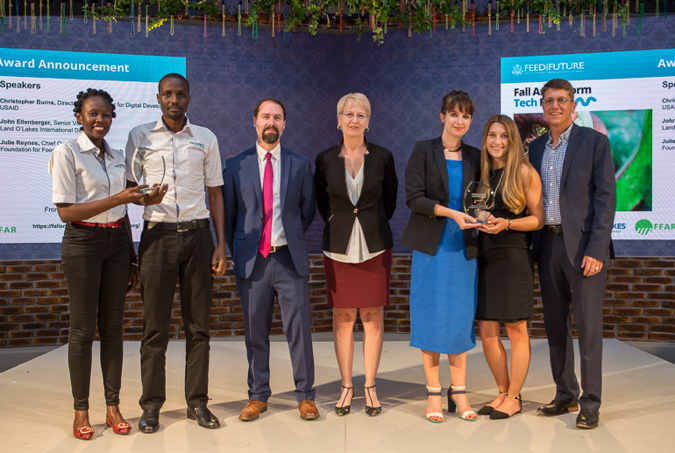 The second place teams, Akorion (on the left, Zilla Mary Arach and Richard Nuwenyesiga) and PCI and Dimagi team (on the right, Delphine Pedeboy, Jennifer Waugaman, and Nick Ford) with USAID Center for Digital Development Director Chris Burns, and Foundation for Food and Agriculture Research COO Julie Reynes at the AfricaCom awards ceremony. Photo credit: KNect365.
The Case for Competing
While Farm.ink, Akorion, and PCI all approached the Fall Armyworm Tech Prize with slightly different models, they all entered the competition because it offered a unique opportunity to respond to customer demand. In PCI's case, addressing fall armyworm started at the field level. Two large PCI projects, in Malawi and Tanzania, were experiencing significant crop losses as a result of the pest and feared more losses were inevitable. The prize provided flexible funding for the home office and project staff to experiment with new approaches to tackle the problem. The team leveraged their current programs to adapt existing tools and solicit smallholder farmer feedback. PCI found the prize process advantageous because in a relatively short amount of time they were incentivized to use project resources to pilot the technology and validate it. PCI now has the ability to use the prize results as leverage to pursue other opportunities the organization may not have otherwise considered due to funding restrictions or a previous lack of evidence.
In contrast, both Akorion and Farm.ink's innovative solutions to address fall armyworm were a direct response to farmer inquiries. Zilla Mary Arach, Akorion's Co-founder and Chief Technology Officer, noted that as early as 2016, "When fall armyworm started invading Uganda… farmers asked many times how we can help them, though some were already utilizing the extension information on EzyAgric, the pest identification and prompt mitigation was still a challenge. Many inquiries came through EzyAgric to our Agronomist, who was overwhelmed by the number of images farmers were sending for advice." So when Akorion learned about this USAID prize opportunity, there was broad organizational support for assuming the risk of competing in the prize. "When everyone looked at the prize requirements," Zilla said, "we saw that our objectives and the key results the prize sought aligned. And customer demand validated our willingness to take on the prize." Similarly, Adam Wills, co-founder of Farm.ink, was seeing inquiries from farmers via the Africa Farmers Club, claiming they were "facing a new pest that had devastated whole fields." When the fall armyworm first started, Adam explains, "No one seems to know what the scope of the problem is and both farmers and stakeholders are facing a massive knowledge gap.Farm.ink saw [addressing fall armyworm as] an opportunity to have real impact."
Awarding Smart Organizational Growth
Participating in the Fall Armyworm Tech Prize allowed our winners to pursue strategic opportunities in ways that met their organizational goals. Akorion's Zilla explained that Akorion had recently conducted a market scan of new functionalities to develop for the firm's winning EzyAgric app, which aids farmers in easily geo-mapping their plots and getting accurate acreage instantly, managing their farm records and planning, as well as buying genuine inputs from the app. After researching the value of artificial intelligence (AI) and chatbots, Zilla settled "on incorporating AI and the prize accelerated Akorion's strategy to use AI in service delivery in EzyAgric." Furthermore, simultaneous with the prize, Zilla noted that Akorion "joined the Google developer Launchpad, which also provided us with an opportunity to perfect our AI." As a result, Akorion is now one year ahead of schedule and moving into the AI space faster than anticipated.
Farm.ink was attracted to the prize as a means of pursuing new funding. According to co-founder Georgia Barrie, "This prize was really interesting to us as it's designed to help applicants actually enhance the work that they're doing, not detract from it." Some application processes for funding opportunities can be resource-intensive, and, often, all organizations have to show for the effort is the application itself rather than material improvements. Second, as Georgia said, even when grant applications are successful, there's a risk that the terms of the grant might "force organizations down a path that's not quite right." Adam explained the firm was attracted to the Fall Armyworm Tech Prize because of it stated a clear problem and demanded that Farm.ink get a clear understanding how you move from idea to product in a short timeframe. As a result, this process would allow Farm.ink to have a working prototype for participating in the prize. Adam explains, "unrestricted funding is a critical innovation in donor support to early stage efforts, particularly involving new technologies… this is because the most successful solutions will inevitably explore opportunities and challenges that weren't in the plan… without this intelligent affordance, a funder runs the risk of unintentionally ham-stringing a potentially game-changing product or service."
In the case of Dimagi, the organization partnered with PCI because as Delphine Pedeboy, a Dimagi business development associate, explained, the firm saw the prize as "a great opportunity to pursue more agriculture projects." Dimagi is the creator of CommCare, a platform that supports collecting and analyzing data. To date, the platform has a well-known track record in the health and logistics sector. While Dimagi previously pursued agricultural applications of CommCare, joining with PCI to apply CommCare to integrated pest management efforts offered an opportunity to highlight the versatility of the platform outside of health and logistics.
Lessons for Future Prizes
For all of international development's optimism—believing that through smart investments, technology, programs and partnerships, we can ensure food security, eradicate disease, foster gender equality, and put countries on a path toward lasting self-reliance—there's a ruthlessness in prizes. As prize sponsors, we have a responsibility to design prizes that catalyze weak markets without distorting them. Once we're assured of our prize's potential role in a system, the onus is on prize sponsors to clearly communicate our objectives, criteria, and incentives so that competitors can assess whether the opportunity is right for them. In exchange, we encourage competitors to ask themselves whether competing is in their best interest as well. While highlighting the experiences of the winners doesn't answer the question of whether competing in the prize is worth it for all competitors, it is clear that these opportunities are most beneficial to participants who saw the competition's objectives as an opportunity to pursue strategic interests, allowing them to meet their organizational goals and customer demand. For them, this investment meant that, win or lose, the prize would leave them—and African farmers—in a better position to combat fall armyworm than before we started.
To check out all of the prize finalists and winners, visit https://fallarmywormtech.challenges.org/
Meredith Perry was the Program Manager on DAI's Center for Development Innovation project and one of the technical advisors on the Fall Armyworm Tech Prize. The prize is managed by DAI's Digital Frontiers project and implemented by the Nesta Challenge Prize Centre.