Emerging Technologies Provide New Opportunities to Bridge the Digital Divide
New investments in emerging technologies offer transformational opportunities in developing countries—particularly for rural and remote populations benefiting from internet connectivity. This blog highlights three developments for potential donor interventions to work with the private sector, governments, and users to bridge the digital divide. These efforts may be complementary to planned or completed infrastructure, specifically for last-mile connectivity solutions to expand inclusive and affordable access for people across various regions.
The economic and social benefit of expanding internet connectivity is profound. According to World Bank research, improved internet access could translate into additional gross domestic product of more than $5 billion and close to 300,000 additional jobs by 2040 for Pacific Island countries that face ongoing challenges distributing coverage across remote communities. However, the marathon towards connectivity inhibits numerous challenges. The UN Broadband Commission estimates that connecting the 1.5 billion unconnected global population may cost nearly $450 billion. In Africa, for example, achieving universal access to broadband would require building a quarter of a million new 4G base stations and laying at least a quarter of a million kilometers of terrestrial fiber by 2030.
Ninety-nine percent of all international internet data traffic is transmitted through fiber-optic cables that predominantly comprise a vast infrastructure of 1.3 million kilometers of 426 submarine cables that feed the national backbone networks worldwide. However, middle and last-mile connectivity of backhaul infrastructure and networks provide access to user devices and premises. Opportunities are rising to deploy less capital-intensive emerging technologies that offer diverse options, enabled by public-private partnerships with critical donor support for developing nations.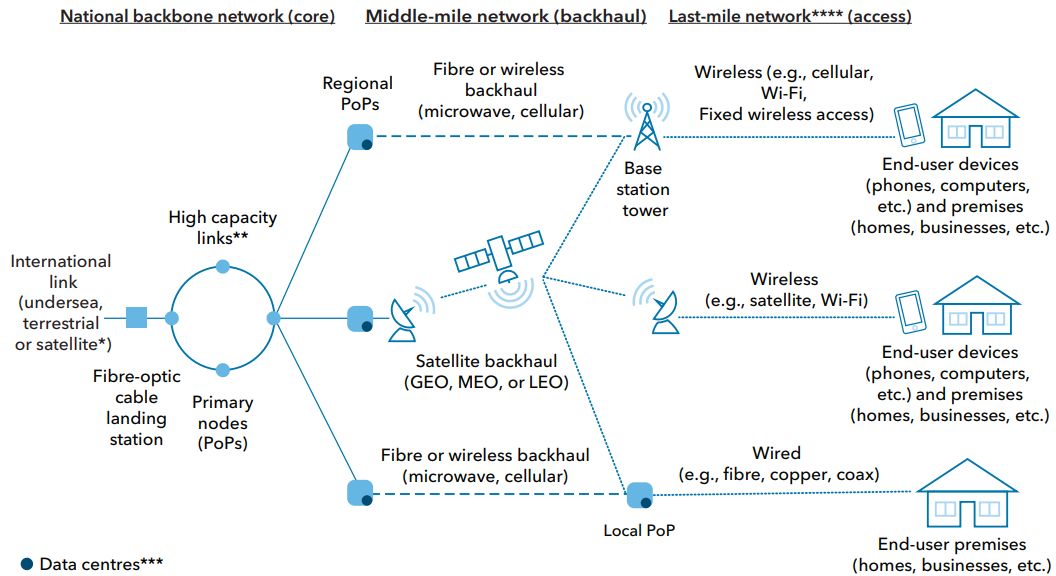 Source: International Telecommunication Union. 2020. The Last-Mile Internet Connectivity Solutions Guide: Sustainable Connectivity Options for Unconnected Sites.
Below are three emerging technologies with increasing international focus to close connectivity gaps that offer complementary donor interventions for developing countries.
Open Radio Access Networks (Open RAN): Refers to a disaggregated approach to deploying mobile networks by replacing proprietary communication interfaces between baseband components with open, standards-based interfaces, allowing for increased flexibility for mobile network operators over traditional RAN platforms. At the end of 2020, estimates of Open RAN deployments numbered approximately 35 globally, with the market expected to double with increased testing in greenfield, rural, and emerging markets. Open RAN has enjoyed incredible success in rural and remote areas. MTN in Uganda and Vodafone in Ireland have brought 2G, 3G, and 4G connectivity to previously unconnected areas. Urban deployments are also underway. Altiostar has successfully deployed Open RAN software across major Indian cities, as has Rakuten in Tokyo, Nagoya, and Osaka, to help accelerate the migration towards 5G in Japan.
Satellites: Satellite networks are widely deployed across the globe, offering crucial means of internet connectivity, especially to remote areas. New investments include Low Earth Orbit (LEO) constellations with Starlink by Space X; OneWeb; Lightspeed by Telesat; Orchestra by UK Inmarsat; and soon-to-launch Amazon Project Kuiper. Such investments all look to significantly increase broadband capacity, speed, lower latency, and blanketed coverage onto geographic ranges. Such investments could prove transformational for populations living in rural, remote, and landlocked countries. In 2019, the Asian Development Bank (ADB) signed a $50 million co-financing package to support Kacific 1, a geostationary Ka-band high-throughput satellite (HTS) satellite that provides low-cost, high-speed, and easily accessible broadband internet across rugged terrain with dispersed populations in the Asia-Pacific. Of the satellite equipment deployed in the Asia-Pacific, such as C and Ku-Band, Kacific 1's Ka-band offers small, low-cost, and maintenance-free satellite dishes that can be transported to remote locations by boat, car, or even on foot with low electricity demands.
TV White Spaces (TVWS): TVWS utilizes unassigned or unused television broadcast frequencies between the VHF and UHF spectrum. Reworking these unused wireless frequencies with the benefits of existing infrastructure provides significant cost benefits compared with rolling out new capital-intensive fiber-optic infrastructure or satellite deployments to a lesser extent. The benefits also include more excellent coverage than wifi routers (100x better) in the distance for rural areas and densely populated urban centers, penetrating obstacles, and covering uneven ground more quickly. The FCC made the TVWS spectrum available for unlicensed public use in 2010 to connect rural communities in the United States, with other countries following suit. In the Philippines and Jamaica, the U.S. Agency for International Development (USAID) has piloted TVWS through public-private partnerships to expand high-speed wireless connections.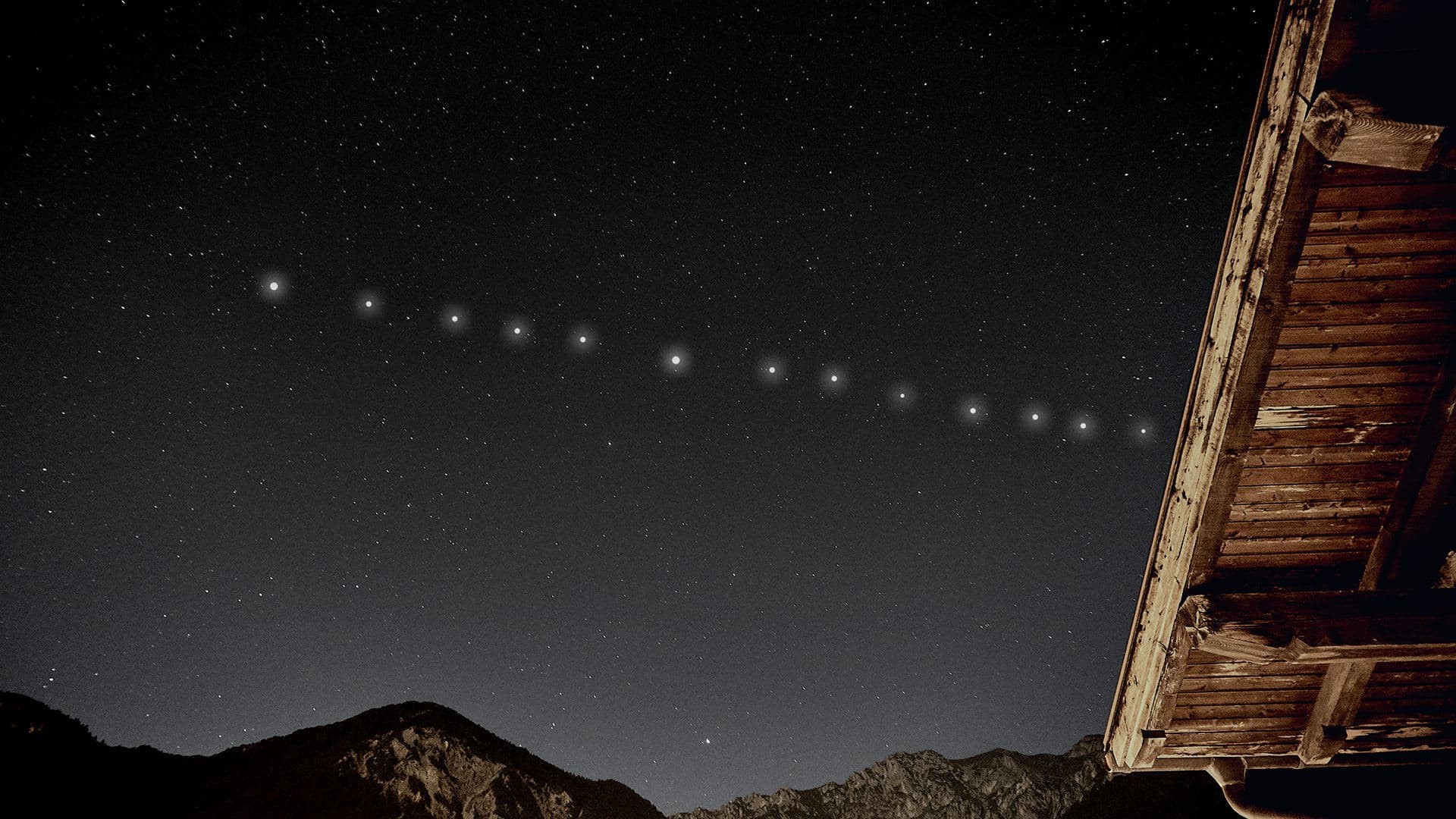 A 'train' of Space X Starlink satellites in the sky. Source: Starwalk 2.
Deploying these technologies, however, brings challenges for all stakeholders, with corresponding opportunities for donor interventions:
Financing, deployment costs, and affordability for users: Despite its relatively lower capital costs compared with fiber optic and extensive backhaul infrastructure overhauls, new technology still carries upfront costs, critical operations, and maintenance needs. If unmanaged—it can be passed onto users, resulting in affordability and access issues that counteract expanding coverage for new communities. USAID's Last-Mile Connectivity (LMC) Initiative, in partnership with DAI and Connectivity Capital, details barriers for investors in last-mile technology and services, with recommendations such as blended finance instruments to leverage private infrastructure capital and risk mitigation measures to support the growth of internet service providers.
Regulations and Policies: Regulatory uncertainty and lack of uniformity often add significant complexity to market entry and relevant investments in this space in developing countries. Global providers require a lot of effort at national levels to begin service, where regulatory convergence could improve the regional and in-country enabling environment for investment and distribution of coverage. Other regulatory and policy considerations include promoting competition in spectrum and service, increasing flexibility and streamlining of licensing procedures, and finally promoting universal access policies to increase access on a community-wide level.
Inclusive Access: Even after securing financing and improving the enabling environment for emerging technologies to expand connectivity to new areas, there are still critical areas of work to ensure the last-mile delivery of broadband services to local communities. DAI implements activities with the Digital Connectivity and Cybersecurity Partnership (DCCP) through Digital Frontiers for USAID's Center for Digital Development (CDD). The SARDI activity under DCCP is training women entrepreneurs and women self-help groups in India on how to take advantage of recent digital developments to become Public Data Offices, which provide wifi services to their businesses and communities at large, increasing their digital capacities, improving connectivity, and access for women and their communities.
As new technologies expand, so do challenges that provide ample opportunities for donors working with the private sector, relevant government counterparts, and other stakeholders to engage and grow their role in bridging the digital divide across numerous regions in developing countries.