Lessons from a School Teacher: 5 Tips for Effective Distance Learning
Since the world was catapulted into a socially distant new reality earlier this year, donor-funded development projects have been forced to re-envision what it means to transfer knowledge, build capacity, and implement training for staff, partners, and beneficiaries. As a result, DAI's Center for Digital Acceleration has experienced a swell in requests to support the digital transformation of activities previously envisaged for in-person learning.
As we work to scale support to meet this rising demand, who better to consult on the topic than school teachers? Teachers and students around the world were thrown into distance teaching with little notice and wildly varied levels of preparation. This disruption sparked newfound—but long deserved—teacher accolades from parents suddenly playing an intimate role in their child's daily learning. Surely anyone with the ability to command a 6-year old's attention from 30 miles away is worthy of our discipleship. So how did they do it and what did they learn? I spoke with elementary, middle, and high school teachers to glean their insights into engaging learners at a distance. While they had much to share on the matter, what I've highlighted below are those takeaways most applicable to the field of international development.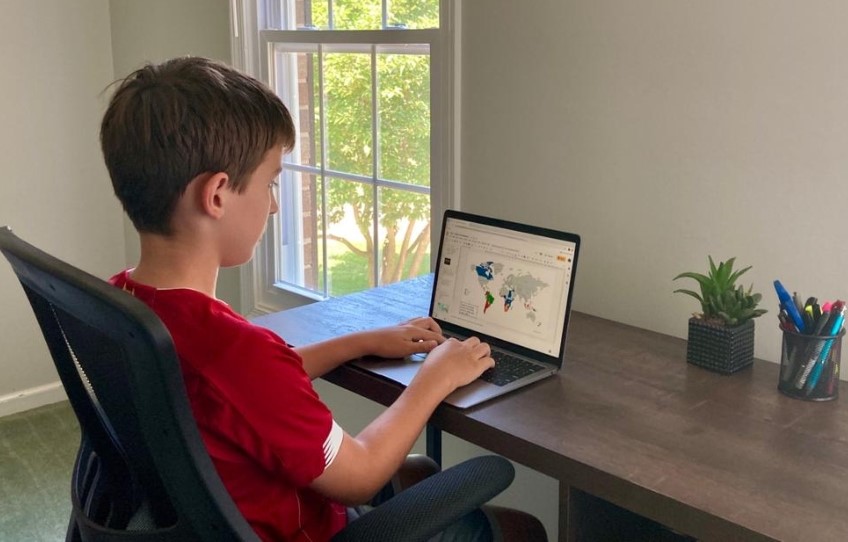 Photo courtesy of Shaula Bellour, whose children have been taking their classes online since March 2020.
5 Tips for Effective Distance Learning
The advice below focuses on asynchronous learning experiences—that is: pre-prepared content that learners work through on their own time without an instructor or facilitator present. Check out this earlier post on digital collaboration recommendations for convening virtual workshops, webinars, and other "live" remote training forums.
1. Consider Learners' Conditions for Distance Learning Before designing your distance learning or e-learning course, understand the technology access and literacy among your target participants, as well as other constraints they may be facing in their home environment. For example, when Minnesota transitioned to distance learning in March, about 15 percent of sixth graders at the Hmong charter school where Bob Mueller taught were without internet access at home; those with access often had to share device time with siblings and other family members. To engage all his students in remote learning, Mueller prepared two versions of his lessons, one in hard copy and another online. He also offered a window of time (instead of a specific time) and multiple communication channels for daily check-ins. To the contrary, at the international school in Japan where Aaron Alcodray serves as personalized learning coordinator, the infrastructure was already largely in place for the transition to distance learning. High schoolers had internet access at home, were each in possession of a school-issued Macbook and were already comfortable navigating Edsby, the school's online learning management system. In addition to technology access, consider other conditions or constraints that might affect how or when learners will be able to engage. In the international development context we may ask: Are the trainees farmers who need to spend much of their daylight hours outside and away from a computer? Are they parents juggling childcare along with their learning? Is email an effective means of communication or are they more likely to respond via text or Whatsapp? Understanding these likely learner conditions and preferences will help inform the best platform for engagement, as well as your curriculum design and pacing.
When switching to distance learning, many schools increased utilization of their existing learning management systems (such as Edsby, pictured) for online learning solutions, data management, and communication. Photo courtesy of Aaron Alcodray.
2. Rethink Your Approach Your initial instinct may be to take everything that you would otherwise do in the classroom and just do it online. This is a common pitfall and teachers quickly realized it wasn't going to work. Learners don't have the same attention span and access at home as they do in the classroom so "less is more." Consider the constraints as well as new possibilities offered by the remote learning opportunity and be thoughtful about your content design. Alcodray advises, "As a teacher you have to reflect on what is absolutely necessary to achieve your learning objective; what is essential for your students to experience. This distance learning experience got everyone to pause and pare down to the most essential things in order to avoid burn-out for students and teachers alike." For synchronous elements of distance learning, Alcodray also recommends teachers re-envision their role as facilitators of student understanding rather than distributors of knowledge. If students can do the learning experience (watch the video, read the article, etc.) on their own time, the limited time they have with their teacher should be spent on activities that apply their new knowledge and skills. In the education world this model is known as a "flipped classroom."
3. Keep Learning Interactive Non-synchronous learning does not have to mean non-interactive learning. You may consider a hybrid model that pairs real-time and self-paced course components or supplementing self-paced content with periodic check-ins and small group work. Group work can help learners feel connected, supported, and held accountable by their peers, while check-ins or virtual office hours provide an opportunity for the instructor to answer questions, troubleshoot tech issues, or facilitate exercises for students to apply their learning.
Furthermore, distance learning does not have to mean computer learning. Christina van Wageningen, a primary school teacher in the United Kingdom, advises "incorporating a mixture of media such as videos, audio, interactive computer programs, and practical tasks or activities using materials available in the home." Mueller also noted that his students thrived with project-based learning that involved less direction and more creativity. We all know what it's like to snooze through a seemingly endless PowerPoint presentation. Vary the method of content delivery and type of homework assigned to keep training participants interested and engaged.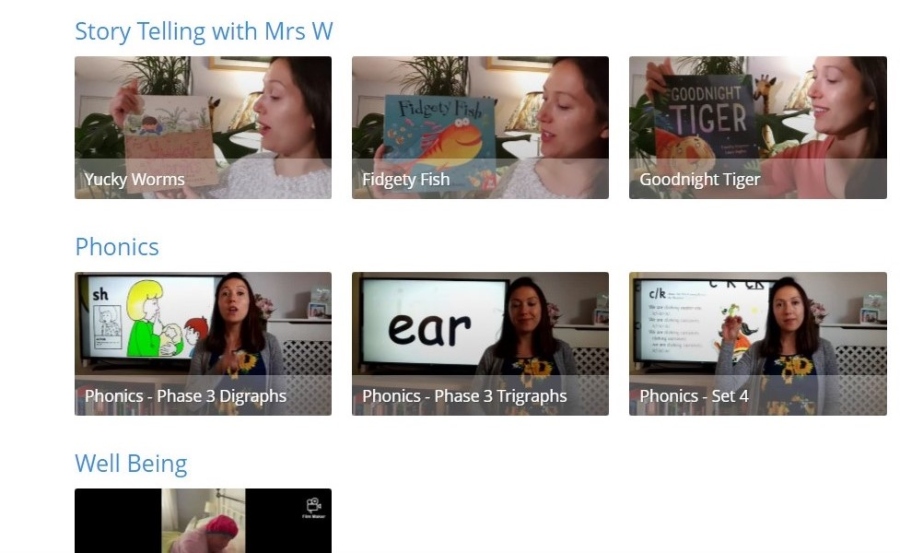 Pre-recorded lessons uploaded and shared with students via the online learning platform DB Primary. Photo courtesy of Christina van Wageningen.
4. Provide Pacing and Time Management Guidelines Depending on factors such as age, previous experience with remote learning, and cultural norms, learners may need support managing their time and pacing their e-learning and other content. Jenny Larsen, a first grade teacher in Minnesota, emphasized the importance of setting daily and weekly schedules for students to tackle their learning plans, emphasizing that "time management and procrastination are some of the hardest things for students to overcome." She recommends encouraging students to designate specific windows of time for certain tasks and to write out when they will start and stop, including when they will take breaks. Adult learners are not immune to procrastination or time mismanagement. Clearly communicate your expectations and deadlines and consider providing guidance to assist trainees with their their self-pacing.
5. Evaluate and Adapt When Larsen surveyed parents two weeks into distance learning, she learned that her students weren't learning all of the material because they couldn't pay attention for the duration of the online lessons. They were also missing the human connection with their teacher and interacting with people outside their household. This feedback allowed Larsen to improve the students' learning experience by shortening lessons and adding optional one-on-one "Read to Me" time blocks to the weekly schedule. While it's common in international development to collect feedback from participants after a workshop or training session, this is often gathered at the end of the activity. In the case of remote training delivery, if the learning style is new (such as during a global pandemic when swift adjustments are necessary) or the material is being delivered over an extended period of time, check in with participants throughout the course. This will allow you to evaluate their access to the materials, understanding of the content, and overall experience so you can provide better support for the remainder of the training. This might mean providing additional learning resources, shifting deadlines, or expanding virtual office hours.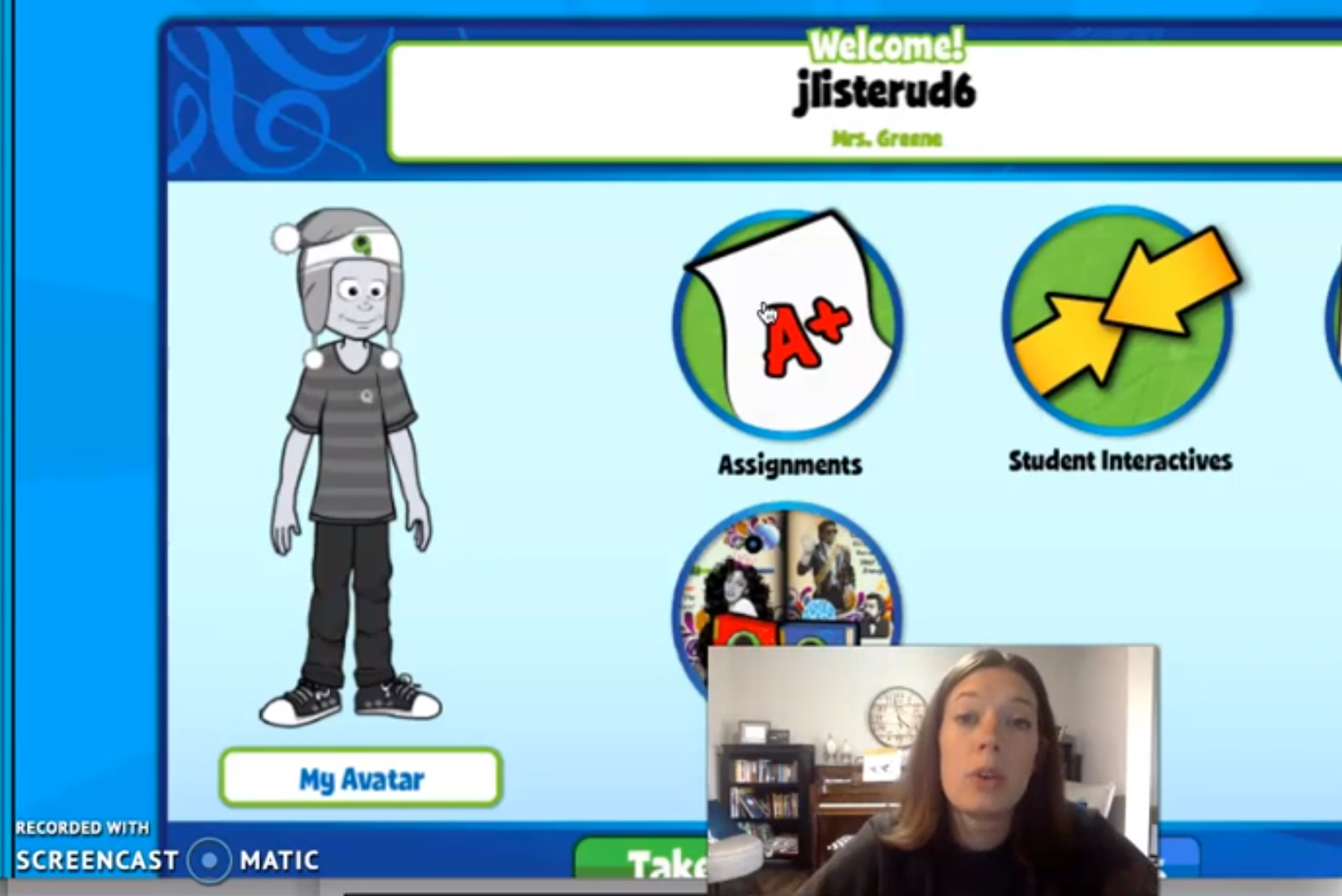 Software like Screencast-O-Matic allow teachers to record full screens, full screen video, or screen and video together (shown). Photo courtesy of Jessica Listerud.
So What Tech Tool Should I Use?
If you were hoping this post was going to tell you the best tech tool to use for delivering content to your project's trainees, I'm sorry to disappoint. The teachers I spoke to cited numerous digital tools and platforms they found helpful for school-aged student engagement and learning management—such as Seesaw, G Suite, DB Primary, Screen Castify, and Ed Puzzle—some of which they may even bring into the classroom or use for weather closures or substitute teachers. However, identifying the right tools for your training will warrant careful consideration of a multitude of factors including the number of participants, learners' level of technology access and literacy, training content and learning objectives, and budget. Regardless of the technology you employ, I hope these recommendations help you maximize participant engagement to achieve your training objectives.
I'd like to extend a huge thank you to teachers everywhere, and special appreciation to those who shared their experiences and insights for the development of this post: Aaron Alcodray, Jenny Larsen, Jessica Listerud, Bob Mueller, and Christina van Wageringen.