Apply Now: Looking For a Partner to Fight Fall Armyworm
Today, DAI releases a request for proposals for a prize implementation partner to confront fall armyworm head on. This partner will join DAI and the U.S. Agency for International Development (USAID) in designing a results-driven prize to find digital tools and services that help smallholder farmers across sub-Saharan Africa.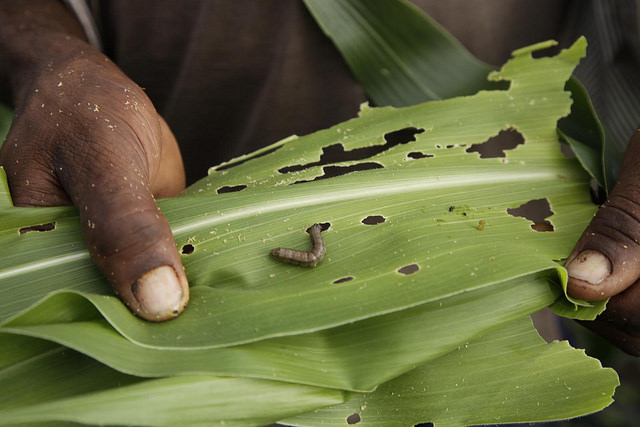 A farmer in Ethiopia inspects his fall armyworm-infested maize. (Photo Credit: FAO/Tamiru Legesse)
First, A Little Background
Right now, the fall armyworm is marching across the African continent, causing more than $13 billion in crop losses. If left unchecked, this insect could continue to cost $6 billion a year. What makes this pest so devastating to farmers across the region? First of all, it not only eats the vegetative parts of the plants, but also consumes the reproductive portions, completely destroying crops. Secondly, it can fly up to 1,600 kilometers (nearly 1,000 miles), meaning it can easily migrate to surrounding farms and countries. Finally, the insect attacks more than 80 plant species, including maize, which more than 200 million people across sub-Saharan Africa depend upon. Basically, this insect eats fast, travels far, and poses a critical threat to Africa's food security.
In response, USAID is launching a call for innovative, digital solutions to help smallholder farmers confront fall armyworm and protect their crops. To support this call, DAI's USAID-funded Digital Frontiers project is looking for a prize implementation firm to design, launch, implement, and evaluate a results-driven prize.
What to Know
Prize launch: Early 2018

Deadline for proposals: January 5, 2018, at 5 p.m. EST

Contact: [email protected]

Estimated award: Between $645,000 and $745,000

Scope: See the full RFP
Who Should Apply?
We're looking for an experienced open innovation competition firm to run this prize from start to finish. The ideal partner has wide range of experience, including:
Designing open innovation competitions with USAID

Working in developing country contexts

Designing and running a communications and outreach campaign

Managing events
What Next?
Read the RFP. Have the expertise we're looking for? All applications are due January 5 at 5 p.m. EST.
Questions are due December 13, 2017, 5pm EST to [email protected]. Answers will be posted December 18, 2017 by 5pm EST on the DAI Digital blog.
Looking for other ways to help us confront the fall armyworm threat head on? Please share the RFP with your networks and encourage interested firms to apply. Also, make sure to follow @FeedtheFuture for the latest updates.