A Call to Action: Igniting the Digital Revolution in International Development Studies
This post originally appeared on the Center for Strategic and International Studies' website.
Technological advancements are transforming every sector of the global economy, opening the way for governments, businesses, and individuals to drastically reframe how they engage with one another. The field of international development is not immune to these changes and has, in fact, seen a marked shift in new approaches and business models in response to today's digital age. Development practitioners are actively responding to the increased role of tools like artificial intelligence, digital identity, digital financial services, and geospatial visualization in project design and implementation. However, the increased use of digital technology also carries real risks to users. Beyond cybersecurity and data privacy breaches, the rise in disinformation and misinformation, the increased risk of misuse, bias, and discrimination, and the growing trend of digital authoritarianism around the world are all causes for concern.
Development practitioners require the necessary knowledge and skills to respond accordingly and embrace opportunities and mitigate risks in today's digital age across all sectors and geographies. As a foundational component of such a shift, graduate programs in international development, public policy, and related fields play a huge role in training future development professionals. But are graduate programs adapting to this digital reality? How are they incorporating hard and soft skills and broader policy discussions related to digital transformation?
To answer this question, CSIS partnered with the Technology Division in the U.S. Agency for International Development's (USAID) Innovation, Technology, and Research Hub, and DAI's Digital Frontiers program to better understand how different universities are preparing the next generation of international development practitioners for the digital age. The authors researched 70 schools worldwide (35 in the United States and 35 abroad) and conducted a series of focused interviews leading up to an in-person seminar with professors, recent graduates, university administrators, and development practitioners to understand their approach.
This exercise revealed that graduate programs vary in the degree that "digital" is incorporated into their curriculums and programming. Within different geographies, universities in the United States have the greatest variety of "digital" or "technology" related courses: over 60 percent of the 35 universities surveyed have more than one relevant course related to digital development. However, universities that serve minorities tend to have less offerings or lack programs or courses related to digital transformation. Most of the relevant courses are not part of the core curriculum and are offered as electives. Therefore, it is up to the students to select such courses (e.g., on the digital divide, technology and climate change, digital finance). Moreover, the study found most of the classes usually focus on hard skills such as data analytics, coding, cybersecurity, statistics, and quantitative analysis. Less offered is coursework on policy, governance, geopolitical, and ethical issues that are underpinning today's use of digital technologies.
There are certain barriers that prevent graduate schools from teaching these "softer skills." Some of these hurdles include limited budgets, resistance to change from tenured professors, and lack of attention from university leadership. At the same time, the speed at which technology evolves requires continuous updating content and lessons. But given the pace of change, in practical terms it is exceedingly difficult or nearly impossible to keep an updated and sophisticated curriculum. In addition, faculty members need upskilling and training on digital topics to stay current on the state of the industry. Universities compete for funding, students and faculty, so they do not have incentives to share lesson plans and curricula. This can lead them to work in silos, potentially stunting progress and isolating programs from innovation. The moment is therefore ripe to reframe such incentives and upgrade curriculum to effectively meet the moment.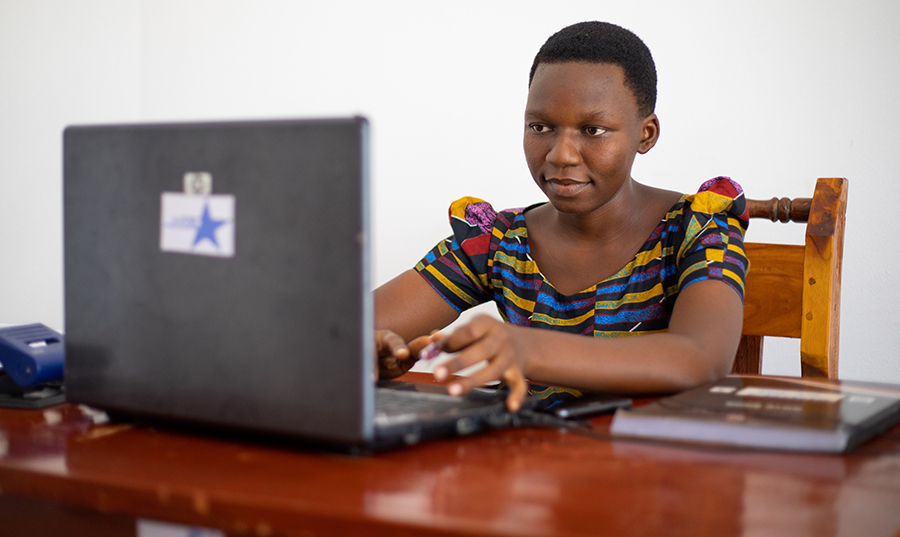 Photo: USAID Tanzania.
Although universities are slower to adapt to these tectonic changes, institutions are pursuing some innovative approaches:
Worcester Polytechnic Institute (WPI) offers a multidisciplinary program—the master of science in science and technology for innovation in global development—which combines technological and scientific innovation with cross-cultural design thinking to address development challenges.
Georgetown's McCourt School of Public Policy offers a master of public policy in international development policy that is "STEM-eligible" and provides technical knowledge that students can use to design and implement programs in developing countries.
Columbia University's School of International and Public Affairs (SIPA) offers a concentration in data analytics and quantitative analysis.
University of California, Berkeley's master of development practice has capstone workshops where students can work with external partners to learn real-world problem-solving skills.
Catholic University offers two masters of arts programs in integral economic development and is in the process of modernizing its core curriculum by integrating data analytics and related digital skills.
Given these examples, how can other universities move this digital transformation agenda forward? These are the four main recommendations made during an in-person seminar conducted by CSIS's Project on Prosperity and Development:
Start by engaging university leaders. From the ground up, businesses, professors, and students need to find ways to engage the leadership of universities on the importance of digital transformation. This includes explaining to deans and provosts what skills and knowledge employers are demanding and what recent graduates are lacking. To make a stronger case, it is important to present concrete data and metrics on which classes and subjects are oversubscribed and undersubscribed, what student surveys show and the employment trends of recent graduates. This information can be strong signals for change.
Bring the expertise of the private sector. Graduate schools need to connect the development issues of the day, what students are interested in, and what companies value as critical skills. Therefore, school administrators and professors can approach companies and development institutions to weigh in on program and curriculum design. These conversations might help align coursework and training with the demands of the industry and fill existing skills gaps. There is a need to combine core tenured faculty with practitioners. To help alleviate this gap, universities can invite professionals working in a variety of industries and geographies as guest lecturers or hire these practitioners as adjunct faculty.
Develop innovative partnerships for students to gain practical experience: Universities also have an opportunity to partner with companies, nonprofits and aid institutions to develop internships and apprenticeships, and design client-centered projects. Walmart, for example, has partnered with researchers and student at Auburn University to apply innovative technology to solve some of their supply chain management issues. These exercises expose students to real-world applications of technologies in development and give students hands-on experience working in the field or within a particular industry. They also allow students to gain relevant skills so they can better transition to the workplace. Through these partnerships, universities can also bolster training in more STEM-focused areas, including engineering, computational analysis, coding, and understanding of innovative and emerging technologies.
Pursue interdisciplinary approaches within universities: Public policy and international development programs could have more cross-pollination with schools specializing in disciplines such as economics, engineering, health, and management, to cite a few. They can do so by offering curriculum crossover with different schools and hiring more staff that have experience in both the academic and technical fields. For example, Worchester Polytechnic Institute's Development Lab brings humanitarian and STEM practitioners together and enables students to engage in development projects with non-Western partners in low- and middle-income countries.
Change is possible, but progress towards these goals does not necessarily mean that schools need to completely overhaul their programs and syllabi. Universities can tailor their approaches and implement both short-term and long-term strategies to integrate critical digital issues and skills into their course offerings and programs. What is important is to start planting the seeds of change now, to ignite the digital revolution in public policy schools, and to equip the next generation of development practitioners with the right knowledge and skills.
Romina Bandura is a Senior Fellow, Project on Prosperity and Development, Project on U.S. Leadership in Development, CSIS, and Christopher Burns is the Chief Digital Development Officer for USAID and the Director for the Technology Division within the Innovation, Technology, and Research Hub.